The last time the whole band played together was July 9, 1995 at Soldier Field in Chicago, IL. Founding member, songwriter, and singer Jerry Garcia died the next month on August 9. 20 years after that last performance, the remaining four original band members will be back at Soldier Field to play a series of three concerts on July 3, 4, and 5, 2015 to celebrate the 50th year since the band's founding.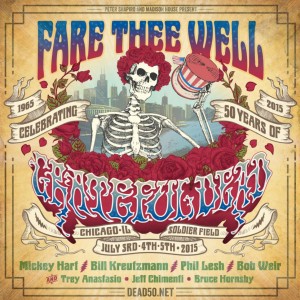 Also joining them for the 50th anniversary concerts are Trey Anastasio, Jeff Chimenti, and Bruce Hornsby.
Here's a video of the 1995 concert.
The 1995 set list was:
Touch of Grey
Little Red Rooster
Lazy River Road
When I Paint My Masterpiece
Childhood's End
Cumberland Blues
Promised Land
Shakedown Street
Samson and Delilah
So Many Roads
Samba in the Rain
Corrina
Drums
Space
Unbroken Chain
Sugar Magnolia
Black Muddy River
Box of Rain
You can download the audio for free here.