The last buy-a-ticket-and-scream-so-you-can't-hear-the-band concert was in January 1969 at Candlestick Park in San Francisco. The ticket prices ranged from US$4.50 to $6.50 each. That's about $29 to $42 in 2013 dollar value. They only sold about 25,000 of the 42,500 seats. The Remains, Bobby Hebb, The Cyrkle, and The Ronettes also performed.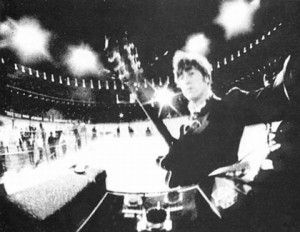 The last concert but possibly the first on-stage celebrity selfie.
Set List:
Rock and Roll Music
She's a Woman
If I Needed Someone
Day Tripper
Baby's in Black
I Feel Find
Yesterday
I Wanna Be Your Man
Nowhere Man
Paperback Writer
Long Tall Sally
In My Life
They did do public performances together after this, including playing "Hey, Jude" on several  TV shows in 1968 and the Apple recording studio rooftop performance in 1969.
Set List:
Get Back
I Want You (She's So Heavy)
Don't Let Me Down
I've Got a Feeling
One After 909
Danny Boy
Dig a Pony
God Save the Queen
A Pretty Girl is Like a Melody
"I'd like to say 'Thank you' on behalf of the group and ourselves and I hope we passed the audition." – John Lennon
You can find more information here:
Beatles Last Concert at Candlestick Park
10 Things: The Beatles Last Show
Do you have a favorite Beatles song? Or a favorite Beatle?