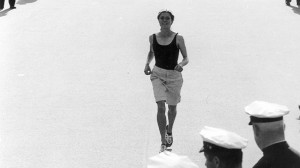 The first woman to run and complete the Boston Marathon was Bobbi Gibb in 1966. She finished in 3:21:40. In 2016, 50 years after being refused an official entry because women weren't thought to be capable of running that distance, Gibb was the Boston Marathon's grand marshal.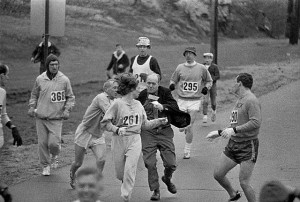 In 1967 Kathrine Switzer was the first woman to run as a numbered entry even though women were still not officially allowed to compete. (She had registered under K.V. Switzer.) She finished in four hours and twenty minutes, about an hour behind Bobbi Gibb who ran unregistered again.
The man shown trying to stop Switzer in the photo above is Jock Semple. He wasn't against women running so much as he didn't want anyone not officially entered to run. He also tried to physically stop runners who were "unserious" – mostly college boys who would come out in costume or do something for attention rather than be there to compete. He just wanted the race and its rules respected. Once women were permitted to enter, he was a strong supporter of them.