Disneyland opened sixty years ago at 2:30 pm on July 17, 1955. At 4:30, there was a live TV broadcast with Walt Disney officially opening the park with this statement, "To all who come to this happy place: welcome. Disneyland is your land. Here age relives fond memories of the past…and here youth may savor the challenge and promise of the future. Disneyland is dedicated to the ideals, the dreams and the hard facts which have created America … with the hope that it will be a source of joy and inspiration to all the world."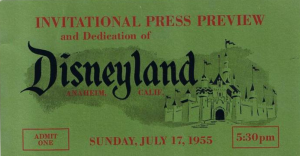 To say things didn't go smoothly would be an understatement. It was an invitation-only event that expected 11,000 attendees. Thanks to counterfeit tickets, there were 28,000 people there. The huge crowd caused a traffic jam (as if that never happens at any of the parks now!), they ran out of food, and a plumbers' strike meant that Disney had to choose between working toilets and drinking fountains. (He wisely, IMO, chose toilets over water fountains.) Rides broke down and a gas leak in Fantasyland caused it, Adventureland, and Frontierland to be closed for the afternoon.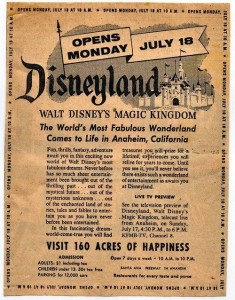 Adult admission $1!
The open-to-the-public opening was the next day, Monday July 18, 1955 at 10:00 am. People were already lining up at 2:00 am to visit Main Street USA, Frontierland, Fantasyland, Adventureland, and Tomorrowland (which included the Monsanto Hall of Chemistry). Over a million visitors came during the first seven weeks and it has had over 650 million visitors in the last 60 years.