October 14, 1964.
He was 35 when he won the award, and at that time, the youngest person to receive it. Since then Mairead Corrigan, 32; Tawakkol Karman, 32; and Malala Yousafzai, 17 have won. The average age for winners is 61.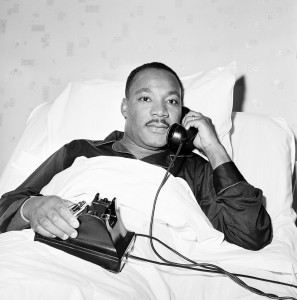 There used to be a photographer that stayed in my bedroom while I slept, just in case I got a call from the Nobel committee or some other prestigious award but we were both disappointed. Or, at least, I was. The camera guy seemed happy with his stack of Polaroids. (It was a long time ago. Now that I'm older and wiser, I think I should have questioned his "news" credentials. Using a Polaroid seems kind of sketchy.) But I digress.
King won the award for showing that a struggle can be waged without violence, for making the message of brotherly love a reality, and for bringing this message to all men, to all nations and races.
Some men, especially prominent Jim Crow Democrats such as Eugene "Bull" Connor and Leander Perez weren't so thrilled to hear King's message. Connor, a former Birmingham, AL police commissioner said that the Nobel selection committee was "scraping the bottom of the barrel" when they chose King.
Leander Perez, whom Wikipedia calls the "Democratic political boss of Plaquemines and St. Bernard parishes in southeastern Louisiana" said that King getting the prize "only shows the Communist influence nationally and internationally." He credited (blamed?) communists and the "Jews who were supposed to have been cremated at Buchenwald and Dachau but weren't"  for the American Civil Rights movement.
You can listen to Martin Luther King, Jr.'s Nobel Peace Prize acceptance speech here.
You can find more information here:
Martin Luther King Jr. and the Global Freedom Struggle
From the Archives: 45th anniversary of MLK Jr.'s death (UPI)