Ten years ago on August 29, 2005, Hurricane Katrina hit the US Gulf Coast near New Orleans, LA. The hurricane had first made landfall on August 25 in southern Florida as a Category 1 hurricane. It then went out into the Gulf of Mexico and built strength before coming back across land in Louisiana as a Category 4 hurricane.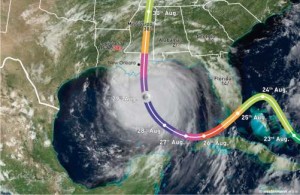 A Category 1 hurricane has sustained winds of 74 to 95 mph and a Category 4 hurricane has sustained winds of 130 to 156 mph. Category 3 and above are considered major storms but any hurricane will have winds strong enough to cause damage to buildings, trees, and powerlines.
Louisiana had a hurricane evacuation plan, unfortunately it turned out to be more of an intention to do something rather than an actual plan. Why didn't they begin evacuation earlier? Whose responsibility was it to make the evacuation order?
At that time it would have been unconstitutional for the federal government to order an evacuation, it had to be done by the local and state governments. Max Mayfield, the Director of the National Hurricane Center explained to Louisiana Governor Kathleen Blanco and New Orleans Mayor Ray Nagin the danger of waiting too long to evacuate but they decided to wait anyway.
President Bush personally called Nagin and encouraged him to evacuate the city but he still chose to continue to wait. The mayor eventually announced a mandatory evacuation less than 24 hours before the hurricane hit. By that time AMTRAK had already removed its trains and the airport had been cleared of planes.
The head of FEMA, Michael Brown went to the media to encourage people in the path of the storm to leave the area. As he was doing this, Mayor Nagin announced that the Superdome would be a "shelter of last resort". At this point is was going to be difficult for anyone without their own car to leave the city and the mayor was offering an easier option – stay there and if things get too bad, come to the Superdome, despite having been told that it was very likely that the building would be damaged by the hurricane.
It was claimed that the state had prepositioned food, water, and medical supplies at the Superdome but it was actually FEMA that had supplied it. The supplies were insufficient to deal with the unexpectedly large number of people who showed up.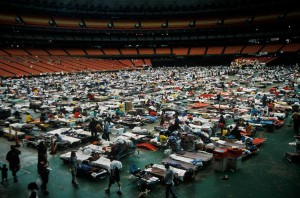 Ten years later both President Bush and Governor Kathleen Blanco have left politics; Mayor Ray Nagin is in federal prison for wire fraud, bribery, and money laundering; and Democrats and Republicans continue to point fingers and blame the other party for everything that went wrong. And it is true in the aftermath of the storm that, as politicians are wont to say, mistakes were made. It's also true that even if the response had been perfectly organized, it could not have made up for the lack of planning by the city, state,, and the residents.
Plan ahead for emergencies. Even if you don't live in an area that has hurricanes, there are still plenty of natural and man-made disasters and it could be days before the government can provide any help for you.
The government has planning checklists including a list of emergency supplies to keep on hand.
The Red Cross has iPhone and Android apps for first aid (including pet first aid) and disaster preparedness. Just make sure you have a phone charger, including a way to charge it if you lose power!
Read Former FEMA Director Michael Brown's recent article about Katrina in Politico.
In March 2006 VH1 had "Pay to Play for Hurricane Katrina Relief" where viewers could pay $25 to request a song or pick an hour's worth of music programming for $35,000. One viewer who went for the $35k option chose an hour's worth of Nena singing 99 Luftballons.
Why that song? I don't know, maybe because this would have been in poor taste.