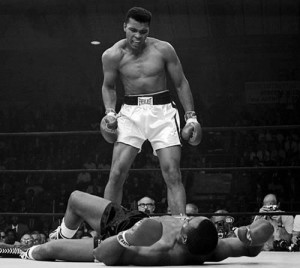 In 1964, when Ali was still going by his birth name of Cassius Clay, he fought Sonny Liston in Miami. It was one of the most watched fights in history.
Muhammad Ali was born Cassius Clay, named after his father, who was named after a famous abolitionist, in Louisville, KY on January 17, 1942.
He began his boxing training at age 12 and fought his first professional fight in 1960. Over the next three years he had a perfect win record, 19 – 0. This put him in position to challenge Sonny Liston for his heavyweight title. They met in February 1964 and the fight lasted seven rounds, ending when Liston refused to answer the bell for that round. The match was declared a TKO in Clay's (Ali's) favor.
Here are the highlights from the fight.
"Float like a butterfly, sting like a bee. Rumble, young man, rumble." (Said by Clay/Ali before his fight with Liston.)